Objectives
To identify and to develop an ecosystem of district, state and national level stakeholders specialising in capacity building which will be equipped to meet the capacity building requirements of frontline staff across the departments of GoR.
To facilitate the training of 1 lakh frontline LSG staff with the aim of developing their core technical competencies, and competencies in service delivery, citizen friendliness, etc.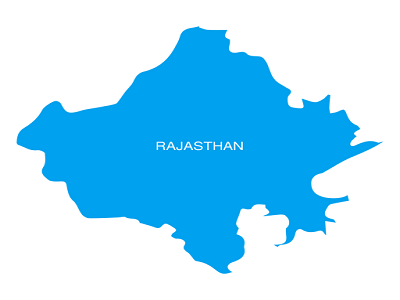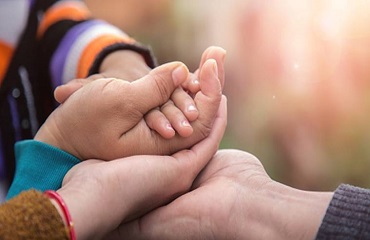 Role of CRISP
CRISP support to Govt of Rajasthan's pro-poor schemes
Set up a PMU to help in operationalising the pro-poor initiatives.
Give a blueprint for MGISSG so as to make it a premium institution for capacity building of the 1 lakh frontline functionaries of ULBs and the Gram Panchayats.
To conduct a concurrent evaluation of IGRY-Urban and based on the field level evidence, fine-tune the guidelines.
Develop a ranking scheme for ULBs with verifiable parameters based on their performance in the IGRY-Urban.
Assist in setting up the Performance and Social Audit Authority so as to operationalise it before 31st Dec 2022.
MoU with Rajasthan
We at CRISP are proud to share the news of signing an MoU with the Government of Rajasthan. During the course of this engagement, CRISP will support the state in augmenting its capacity to truly further pro-poor initiatives, at the same time, also help regulate the governance of urban local bodies and gram panchayats to ensure seamless delivery of services and schemes.
We are excited to take on this journey and deliver meaningful outcomes… urban
governance
propoor
grampanchayat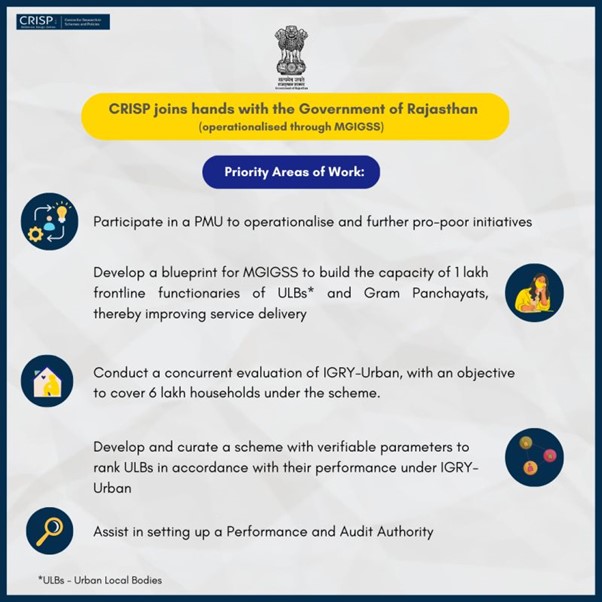 Action Plan
Centre for Research in Schemes and Policies (CRISP) signed an MoU with the Government of Rajasthan (GoR) in November 2022 to set up a PMU to streamline the implementation of social sector schemes in Rajasthan. As a part of this MoU, 4 consultants have been hired by CRISP who are placed in the Chief Minister Service Delivery Cell, GoR.

Read more.. PPT Presentation