Objectives
To identify and to develop an ecosystem of district, state and national level stakeholders specialising in capacity building which will be equipped to meet the capacity building requirements of frontline staff across the departments of GoR.
To facilitate the training of 1 lakh frontline LSG staff with the aim of developing their core technical competencies, and competencies in service delivery, citizen friendliness, etc.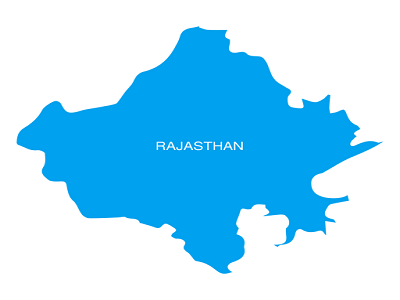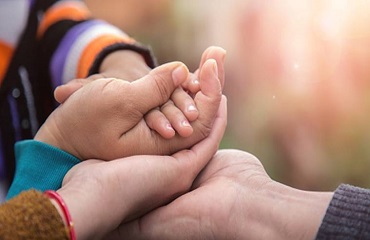 Role of CRISP
CRISP support to Govt of Rajasthan's pro-poor schemes
Set up a PMU to help in operationalising the pro-poor initiatives.
Give a blueprint for MGISSG so as to make it a premium institution for capacity building of the 1 lakh frontline functionaries of ULBs and the Gram Panchayats.
To conduct a concurrent evaluation of IGRY-Urban and based on the field level evidence, fine-tune the guidelines.
Develop a ranking scheme for ULBs with verifiable parameters based on their performance in the IGRY-Urban.
Assist in setting up the Performance and Social Audit Authority so as to operationalise it before 31st Dec 2022.
MoU with Rajasthan
We at CRISP are proud to share the news of signing an MoU with the Government of Rajasthan. During the course of this engagement, CRISP will support the state in augmenting its capacity to truly further pro-poor initiatives, at the same time, also help regulate the governance of urban local bodies and gram panchayats to ensure seamless delivery of services and schemes.
We are excited to take on this journey and deliver meaningful outcomes… urban
governance
propoor
grampanchayat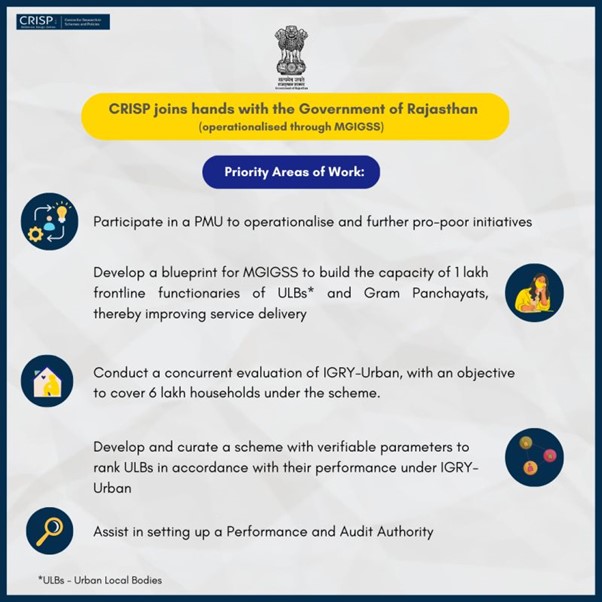 Action Plan
1. Concurrent Evaluation of IRGY - Urban :- The Indira Gandhi Shahari Rozgar Guarantee Yojana was launched in Rajasthan in September 2022 with the objective of providing 125 days of guaranteed wage employment to any family having adults between 18-60 years of age (with a valid Jan Aadhaar/Family ID card) residing in urban areas of Rajasthan.
2. Concurrent Evaluation of Chiranjeevi Yojana :- Mukhya Mantri Chiranjeevi Swasthya Bima Yojana (MMCSBY) is being implemented in Rajasthan since 1st May 2021 with an aim to reduce out of pocket expenses for hospitalisation (inpatient care and day care surgeries) for treatment of diseases and medical conditions.
3. Operationalization of the Gig Workers Welfare Act :- In the budget 2023-24, GoR introduced the Gig Workers Welfare Act and announced 200 Crores for constituting a welfare board. Rajasthan will be the first state in India to enact a legislation for the protection of gig workers.
4. Capacity building of MG Seva Preraks :- In the announcement of the state budget for the Financial Year 2023-24, the Rajasthan Government announced allocating funds to the tune of 25 crores towards establishing 2500 Mahatma 'Gandhi Pustakalya evam Samvidhan Kendras' across Rajasthan.
5. Mehangayi Rahat Camps :- Mehangayi Rahat Camps were launched by GoR to provide relief to citizens against rising inflation by linking them to welfare schemes.
Read more..
PPT Presentation