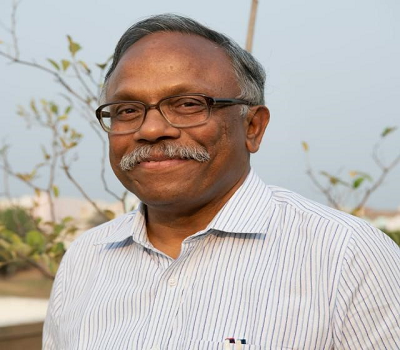 Executive Vice Chairman, Rythu Sadhikara Samstha (A Govt. Corporation for Farmers' Empowerment), and, Ex Officio Spl Chief Secretary to Govt (Natural Farming) Agriculture and Cooperation Dept Govt of A.P. A Physics honors student and an MBA from Faculty of Management Studies, Delhi University (1977). He joined the Government, in 1983, in the Indian Administrative Service. Allotted to Andhra Pradesh (A.P) cadre.
In his 39 years of Govt. service, he has spent about 27 years in large scale community mobilization and promotion of livelihoods of rural women, tribal communities and farmers.
He spent a record 10 years, 2000 to 2010 as CEO of Society for elimination of Rural Poverty (S.E.R.P) in Andhra Pradesh and led the mobilizing and empowerment of 11.5 million rural poor women into thrift and credit-based self-help groups (SHGs) and their federations, to enable them to come out of poverty. From 2010 to 2015, was the first Mission Director of the National Rural Livelihoods Mission (NRLM), Govt of India. He has taken the lessons of SERP to the whole country, with a vision of mobilising 100 million rural women into S.H.Gs and federations.
He returned to Govt. of AP in April 2015 as Special Chief Secretary, Agriculture Dept. After his retirement in September, 2016, he has been leading the climate resilient, A.P Community managed Natural Farming, also known as Zero budget Natural farming.
Renamed as Andhra Pradesh Community-Managed Natural Farming in 2020, he is currently, serving as Executive Vice-Chairman of RySS and also as the Ex Officio Spl Chief Secretary to Govt (Natural Farming) Agriculture and Cooperation Dept Govt of A.P. This programme has enrolled more than 800,000 farmers and farm workers in A.P. This work builds on the large-scale mobilization of rural women in the State by SERP, from the year 2000. The vision is to enrol by 2031, all the 80 lakh (8 million) farmers and farm workers in AP and to make the whole state a natural farming state.
He is also championing scaling Natural farming in other states and countries and is offering support from RySS to the Ministry of Agriculture, NITI Aayog and Ministry of Rural Development to take Natural farming across the country. He is member of high-level committees of several states (Rajasthan, Tamil Nadu) for promoting sustainable soil and food systems.
He was the Vice Chair (Productions) of the Champions Network for the United Nations Food Systems Summit held in September 2021.
He has been appointed as a member in the Advisory Council for Promotion of Natural Farming constituted by Ministry of Agriculture and Farmers' welfare.