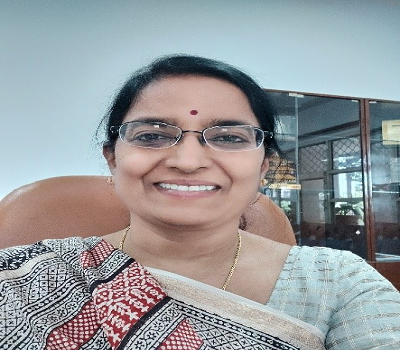 She is a career civil servant and belonged to the 1987 batch of Indian Postal Services and held several challenging assignments with Government of India and Govt. Andhra Pradesh State. She retired as Member (Banking & DBT), Postal Services Board, Dept. of Posts, Ministry of Communications, Govt. of India, heading policy making relating to Postal Banking services and coordinated with Ministry of Finance and other Ministries of Govt. of India.
As Director on the Board of India Post Payment Bank, she influenced its policies for quality enhancement, expansion of its digital and physical services, etc. Earlier she worked as Chief Postmaster General, Telengana State, India.
As Commissioner, School Education, Govt. of Andhra Pradesh during 2015-19, she spearheaded several academic reforms and technological initiatives leading to improved student assessments and learning levels, enhanced Teachers' professional development, establishing School Information Management System, consolidation of Government schools, improved governance through transparent and accountable administrative systems, introduction of Happiness Curriculum, Digital Class Rooms and Personalized Adaptive Learning initiatives, etc.
Sandhya handled several assignments in Department of Posts in Andhra Pradesh, Delhi and Karnataka State. As Post Master General (Business Development & Mails), Andhra Pradesh Postal Circle during 2010-2014, Sandhya was instrumental in introducing Direct Benefit Transfer (DBT) through Post Offices across 22,000 (appx.) Gram Panchayats through Aadhaar Enabled Payment System. National Rural Employment Guarantee Scheme (NREGS) wages and Social Security Pensions were disbursed to over 1.25 crore beneficiaries. She represented India at the International Finance Corporation and World Bank Spring meetings related to Digital Finance during April, 2014. She was Chairperson and/or Member of Several National Level Committees of Department of Posts including India Post IT Modernization Project, Postal Tariff Revision, etc.
During 2001 to 2004 Sandhya worked as Regional Project Director & Director (Social Risk Management), Society for Elimination of Rural Poverty (SERP) Dept. of Rural Development, implementing the World Bank funded multi sectoral poverty alleviation program. Sandhya was core member of the team supporting expansion of the Project from 6 to all 22 districts. She also led on several insurance and risk management initiatives covering Self Help Group members, Crop insurance, etc.
Sandhya Rani worked as Social Development Adviser, Department for International Development (DFID), Govt. of United Kingdom, during 2004 to 2007. She provided strategic and policy advice to the State Governments of West Bengal and Andhra Pradesh and monitored implementation of several development projects funded by DFID.
Sandhya consulted for International Labour Organization (ILO) and evaluated their Child Labour and Bonded Labour eradication programs (ILO-IPEC) in several States of India including Tamil Nadu, Karnataka, Orissa, Madhya Pradesh, Gujarat, etc. She gave Guest lectures at IIM, Ahmedabad, Lal Bahadur Sastry National Academy of Administration, Mussoorie, National Postal Academy, Ghaziabad and Postal Training Centers, Mysore and Madurai. She also published several reports and papers at Conferences and Workshops on Financial Inclusion, e-Governance, Social Sector themes, etc.
Sandhya is associated with several Non Government Organizations (NGOs) working for empowering persons with disabilities, strengthening and supporting public schools, provisioning scholarships for students from disadvantaged homes, building and strengthening people's organizations like Self Help Groups and their Federations, Farmers Produces Organizations, Cooperatives, and in other development areas.
She holds a Master's Degree in Public Administration (2001) from Harvard Kennedy School, Harvard University, Boston, Massachusetts, USA. She has done her Master's Degree in Political Science from University of Hyderabad (1984).